Saramonic Ultracompact 2.4GHz Dual-Channel Wireless Microphone System - Blink100 B5
In Stock
29.900 KD
You can track the price of this productTrack Price
3-Year adawliah Warranty
30-Day Money-Back Guarantee
Ultracompact 2.4GHz Dual-Channel Wireless Microphone System
The Blink100 system is an ultra-compact and portable 2.4GHz wireless microphone system, compatible with mobile devices. It features automatic pairing and selectable noise cancellation, ideal for live streaming, vlogging, and other audio capturing applications.
With digital 2.4GHz transmission, the Blink100 system offers a stable and impressive line-of-sight range of 50m, achieving an unmatched audio experience for content creators. Press both "+" and "-" at the same time button to turn on/off the noise reduction function. When turns to noise cancellation mode, the Blink100 system indicator static green light removes ambient noise and offers a clear sound.
Turn on transmitters, and plug the Blink100 RXDi into a mobile device, transmitter and receiver will be automatically paired. No other tedious operations, just plug and play. The Blink100 RXDi receiver doesn't require any batteries or charging to operate. The Blink100 RXDi receiver plugs directly into iOS devices, like iPhones, iPads, and more. The phone can be charged via a USB-C charging port on the receiver while using.
With a total weight of 10g, the Blink100 transmitter is ultra-compact and lightweight. Just clipping the transmitter on the collar is easy to conceal. The Blink100 transmitter's built-in rechargeable battery provides up to 10 hours of runtime, which supports all-day recording. The Blink100 system ensures your uninterrupted work for a long time, such as live streaming and online meeting.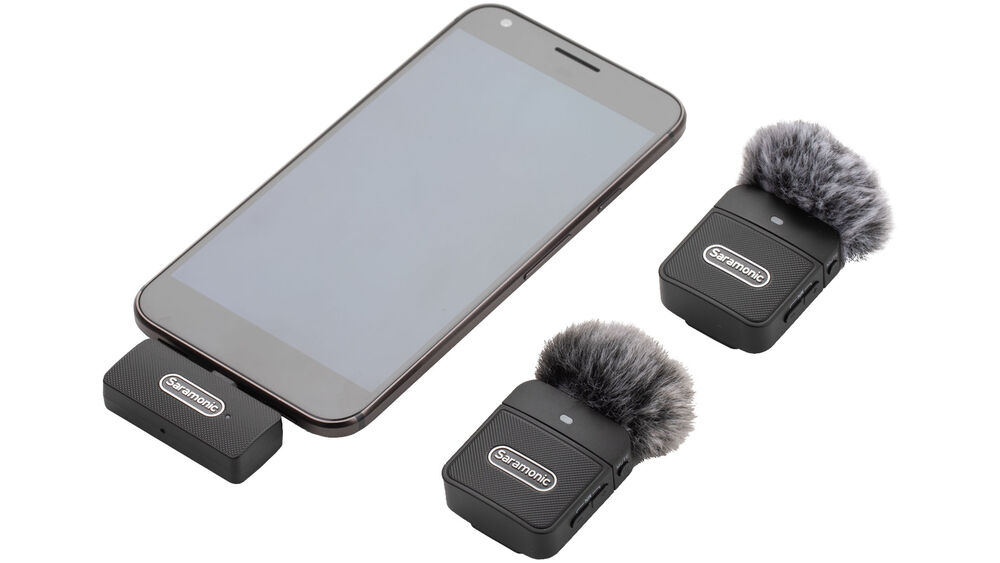 A Streamlined Wireless Mic System for On-the-Go Creators
Designed to provide content creators, influencers, and mobile journalists with a streamlined solution that's cost effective and easy to use, the Saramonic Blink 100 B5 is an all-inclusive, clip-on wireless microphone system that allows you to quickly and easily record two subjects to your iOS smartphone or tablet. The dual-channel receiver in this version of the Blink 100 system features a Lightning connector for a direct connection to your Apple mobile device. A charging cable for the transmitter, a furry windscreen, and a carrying case are also supplied.
2 Clip-On Mic/Transmitters + Dual-Channel Lightning Receiver
· The compact clip-on mic/transmitters in the Blink 100 B5 can be quickly and easily attached to your subjects in the field, allowing you to get the mic close to the talent for clear, present, and easily intelligible speech that sounds considerably better than the built-in microphone on a mobile device.
· The system operates in the 2.4 GHz spectrum to deliver a maximum wireless transmission range up to 165' in ideal conditions.
· The dual-channel receiver's Lightning connector supplies the receiver with power and allows you to digitally record the receiver's incoming audio to your device.
· LED indicators on the transmitters and receiver show you pairing and battery statuses at a glance.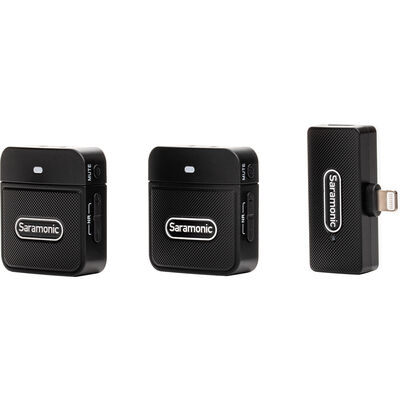 THE SYSTEM PROVIDES OUT-OF-THE-BOX OPERABILITY FOR ANYONE; THE TRANSMITTERS AND RECEIVER PAIR AUTOMATICALLY UPON POWERING UP, SO YOU CAN FOCUS ON CREATING CONTENT INSTEAD OF WASTING TIME CONFIGURING COMPONENTS.
· Power the transmitters with their internal batteries for up to 10 hours or through the USB charging ports for extra-long shoots; two USB charging cables are included.
· Adjust the mic input level using the "+" and "-" keys on the transmitter.
· Press both "+" and "-" at the same time to turn on/off the noise-reduction function for less ambient noise and clearer speech.
· A furry windscreen is supplied with each transmitter/mic to reduce wind noise as well as plosive "P" and "B" sounds from your subjects.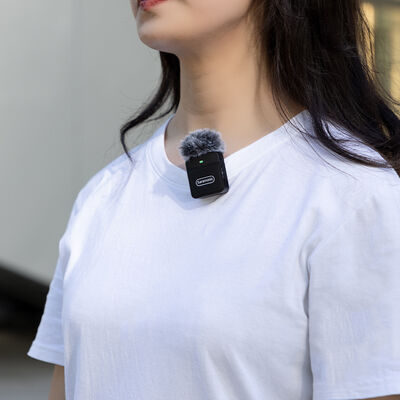 Advanced 2.4GHz Wireless Transmission
Operating Range of Up to 165 feet (50m)
Intelligent Noise Cancellation
Automatic Pairing & Plug and Play
Lightweight and Ultra-compact Design
Up to 10-Hr Recording & USB-C Charging Port (DC 5V)
Omnidirectional Built-in Mic for 360°Sound Pickup
Compatible with Mobile Devices
Support Live Broadcasting and Phone Charging Simultaneously
Transmission Type:
2.4GHz
Polar Pattern:
Omnidirectional
Frequency Response:
20Hz-16kHz
SNR:
76dB
Sensitivity:
-39+2dB
Transmission Range:
50m (without obstacles)
RF Output Power:
6dBm
TX's Battery Life:
Approx.10 hours
Battery Capacity:
90mAh
Charging Port:
USB-C
Dimensions:
TX:39×35×14mm

RXDi/RXUC:46×20×12mm

Weight:
TX:0.58oz(16.5g)

RXDi/RXUC:0.35oz(10g)
Saramonic Ultracompact 2.4GHz Dual-Channel Wireless Microphone System - Blink100 B5
SKU: Blink100 B5.
0 - Reviews
29.900 KD
You can track the price of this productTrack Price